Do you have an RV that you use to get into the backcountry? Maybe you're thinking of renting one but you're not sure how to bring your bike. There are several good ways to carry your bikes along inside an RV. Choose the one that best suits your needs so you can take your bike with you on all of your adventures.
Buy an RV With Built-In Bike Storage
Carrying bikes on RVs is becoming so common that manufacturers are starting to include bike storage on some models. While you won't get to choose which type of bike rack you get, you'll know for sure that it fits the RV. You can also look up online reviews to see how easy to rack is to work with, how stable it is, and whether people think it's a good solution.
Choose an RV Bike Rack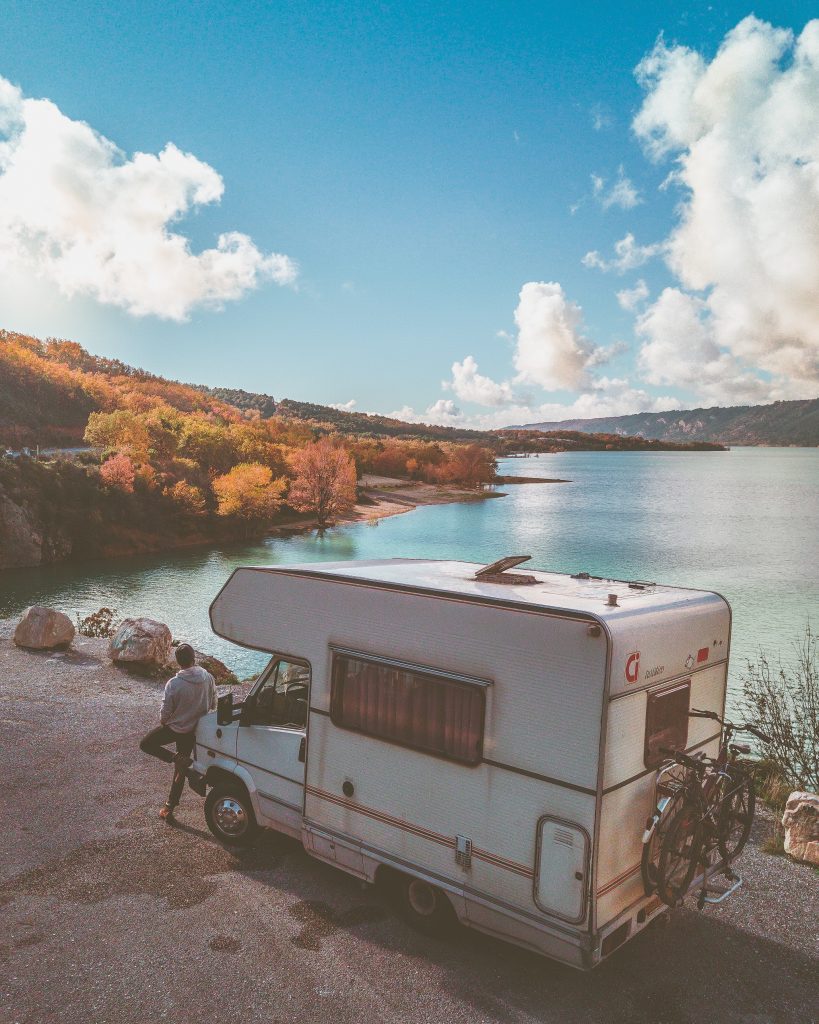 The most obvious way to carry your bike with you is to get your own RV bike rack. The one that's right for you will:
Fit your RV and attach correctly to it
Hold all of your bikes
Remain stable no matter where you go
You can get bike racks that attach to your ladder, your square bumper, your hitch mount, or your spare tire. Make sure that any rack you get is easily accessible, that you have someone strong enough to lift the bikes and secure them properly, and that the rack fits your bikes as well as your RV.
Different people swear by different types of racks and many racks have both adamant supporters and intense detractors. You will need to figure out for yourself what will work for you and your RV. This can involve some trial and error, so make sure you can return any rack that you purchase if it doesn't work out.
The downside of these racks is that your bike will be outside your RV. This does put it in more danger than it would be in if you stored it inside. For some people and some bikes, this is an acceptable risk. If your bike is very valuable or has sentimental value, though, read on for ways to store it inside your RV instead.
Build a Bike Gurney
You may decide to get creative like these folks did. They built a bike gurney specially designed to fit their particular bikes into their particular RV. While this takes some extra time and dedication, it does mean that you will end up with a solution that is tailored to your needs. Just make sure that you are comfortable using power tools and that you measure twice before you cut…or it may mean another trip to the hardware store for you!
Store Them Over the Sleeping Area
Do you have space over the sleeping area or are you using a 5th wheel that has horizontal space over your truck bed? If you don't need this space for other storage, you may be able to fit your bikes into the area. Play around with removing the front wheels and arranging them in different patterns until you find what works.
Try to protect your bikes, both from each other and from damage due to sudden stops, turns, or accidents. Place layers between the bikes if they are on top of each other and make sure you have some netting to go over the end of the space so the bikes don't slide out and onto your RV's floor.
Lean Them Up With Moving Blankets
Depending on how your RV is laid out, you may want to simply stand your bikes up in the galley or in a hallway, separated by moving blankets. If you can fit all of your bikes in and they won't move too much, this can be an easy way to transport them without buying anything extra or losing any space. You can also anchor them with bungee cords or tie-downs.
Keep in mind that this storage spot won't be as useful when you get to where you're going. After all, no one really wants to climb over a pile of bikes to go to bed or use the bathroom. You'll need to have a plan in place for bike storage after you arrive, as well as during your travels.
---
It takes some time and effort, but getting your bike to your destination is worth it. You'll be able to get even deeper into the backcountry and you can enjoy your favorite sport in even more gorgeous locations. Find the bike hauling solution that's right for you, then enjoy your RV and your mountain bike together.