Ah, the relaxing camping trip. Fresh air, being one with nature, cooking s'mores on an open fire, and a restless nights sleep on lumpy, uneven ground.
Wait… what?! Scratch that last part—if tent camping isn't your thing, you're in the right place!
For many years, camping has been synonymous with sleeping on the ground in a tent or beneath the stars.
Hammock camping is an ultra-portable and super comfortable alternative to tent camping—and with so many amazing hammocks available today you'd be crazy not to try it!
If you need any convincing to try hammock camping at all or just need further validation of how awesome it is—read on and get the full scope of the benefits of hammock camping.
1. Comfort
Say goodbye to sleeping on uneven ground, rocks, and twigs. There's no denying that sleeping in a tent can sometimes be uncomfortable – if you've ever woken up in the middle of the night with your pressure points on fire, sleeping in a hammock will change your life! Or, at least, your camping trips.
Sleeping in a hammock keeps you off the ground (and all of its lumps) and cradles you in a way that makes you feel like you're in a cozy cocoon.
It may take a couple of tries to get the perfect hang of the hammock, but once you do you're in for what may be one of the best nights of sleep you've ever had! It's no surprise that a good nights sleep while camping can make all the difference in your energy levels and mood.
Tips for hammocking in ultimate comfort:
Don't hang your hammock too tight.

It should sag a little in the center, like a slight smile. Don't hang it so loose that it looks like a V, and don't hang it so tight that it's straight across! Too much sag will fold you up and be uncomfortable, and hanging it too tight will feel like sleeping on a board and be difficult to stay in.

Lay Diagonally.

When you lay in your hammock, position yourself so that your body lays across the material slightly diagonally instead of straight down the center. When you lay diagonally, your weight will put tension on the fabric and create a more comfortable sleeping surface. Laying in the center will cause your spine to be curved all night and could lead to back pain.
2. Versatility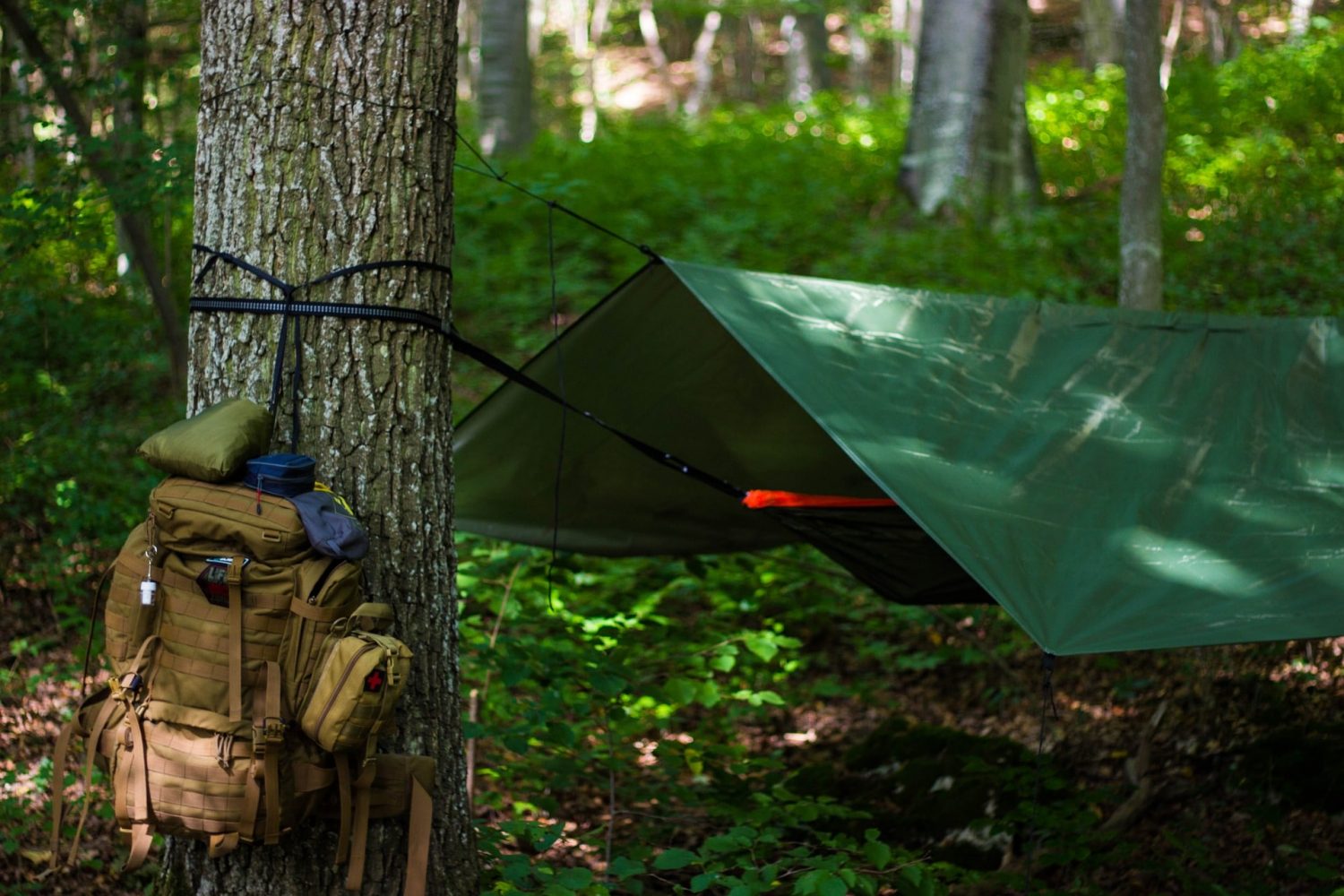 You can pretty much hang your hammock anywhere! You don't have to worry about finding even ground or disturbing the plant life to create a place to pitch a tent… Anywhere there are mature trees, you're in business!
No trees? No problem. Hammock stands exist, and some of them are portable enough to carry with you. You can even hang your hammock between 2 car racks when car camping.
Being able to hang your hammock anywhere frees you up from having to find the perfect clearing to camp for the night.
Hammock Hanging Tips:
Don't hang your hammock over water or a crevasse.

Choose Mature, Live trees that are at least 12 inches in diameter to hang your hammock – you need to make sure they are strong enough to hold your weight.

Check the area for widow makers. Widow makers are dead trees, broken limbs and broken treetops. Check your immediate area for any dead or diseased trees, and put your eyes to the sky to scan for any broken limbs or treetops that may fall when a breeze kicks up.

Use it in your backyard! Your hammock is a great place to relax, unwind, nap or read a book. It is a year-round multi-use piece of equipment good for so much more than just camping and hiking!
3. Portability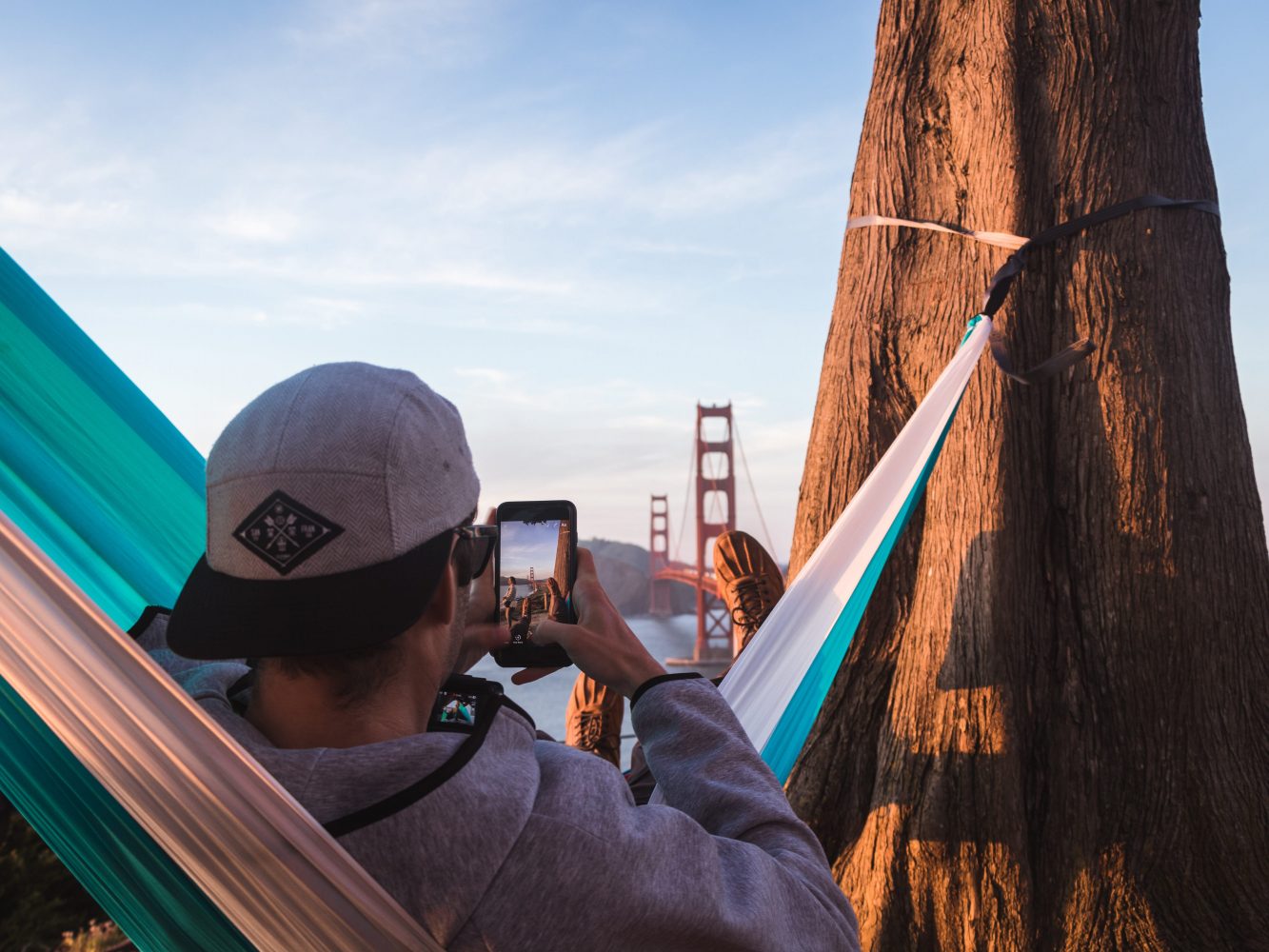 When it comes to portability, hammocks beat out most tents, no contest. Most hammocks fit into a small stuff sack and weigh less than 3 pounds—making them the ultimate space-saving, lightweight sleeping solution. They can usually clip to the outside of your pack so you have more room inside.
Depending on your preference, you can leave the pillow at home. Hammocks are comfortable enough to use without any extra equipment such as a pillow or sleeping pad – another point for portability.
Hammocks and their accompanying equipment are usually separate, meaning you don't have to bring all pieces if you won't need them. If bugs don't bother you, no need to bring the bug net! If the forecast is clear, you won't be needing a rain tarp. You can customize your setup for each trip to save on space and weight.
Hammocks are so portable that they're easy to bring along on short day hikes or trips to the park! You can take them anywhere and have a comfortable place to hang out off of the ground, as long as there's somewhere to hang it.
4. Easy to Use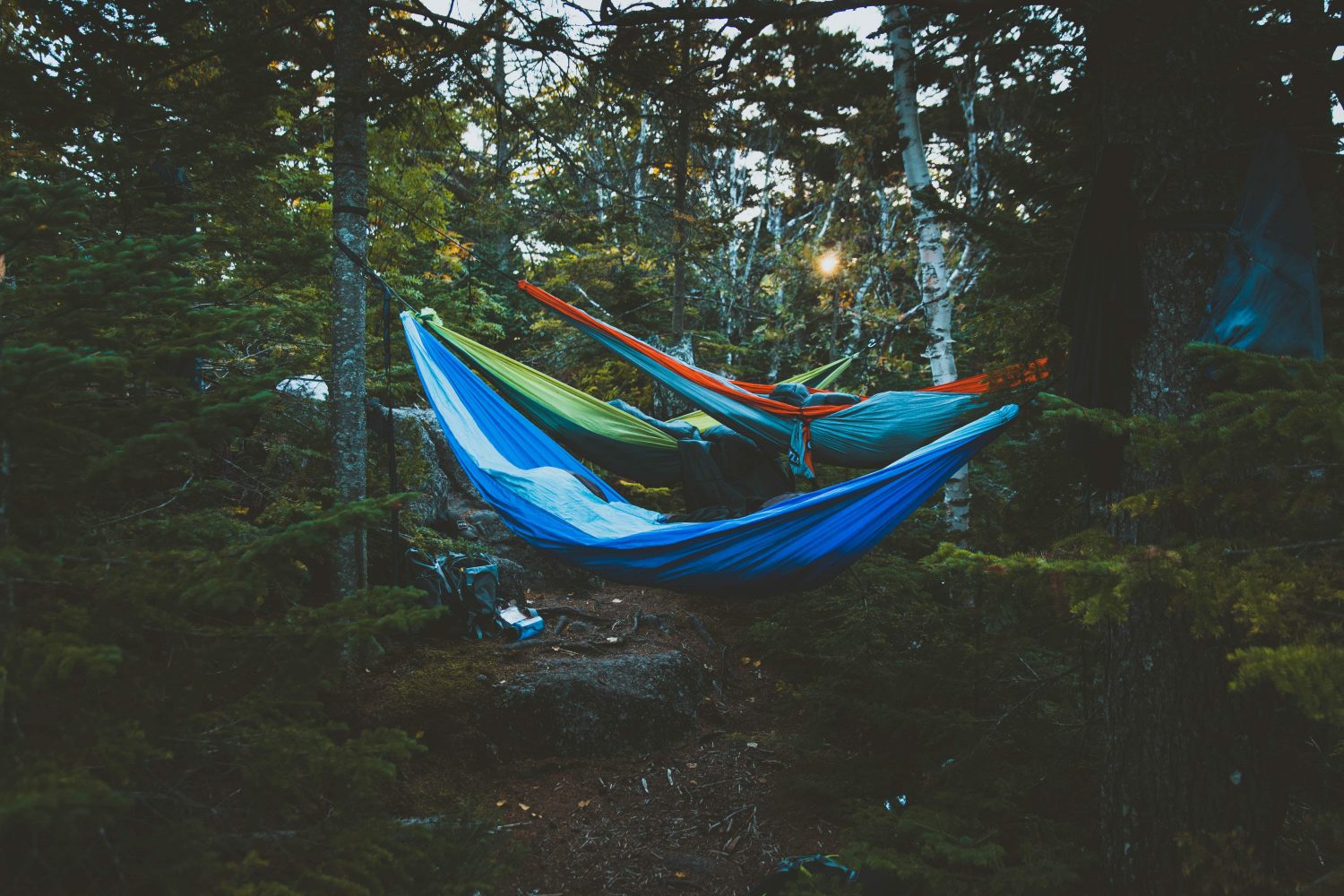 There's a slight learning curve to setting up a hammock, but once you get it, you're good to go!
Hammocks are very simple sleep systems usually consisting of two hanging straps and the hammock—all you need is somewhere to hang it!
You can set up your hammock in seconds—and the accompanying accessories like a bug net or rain tarp are just as easy.
No fighting with poles, stakes, or needing 2 extra hands to set up your hammock – they might just be one of the easiest camping sleep systems available.
5. Value
Hammocks today have very sturdy construction and will last you a very, very long time. They can be used while camping, hiking, at parks, at festivals, at home on a porch or backyard… You can find so many uses for a hammock, the investment in convenience and comfort pays for itself! 
This Eno Doublenest Hammock has triple-stitched seams, can support a weight of up to 400 pounds and long-lasting aluminum hardware.
You will find the same quality and performance in today's hammocks that you would in high-quality tents for a great price!
6. All-Season Use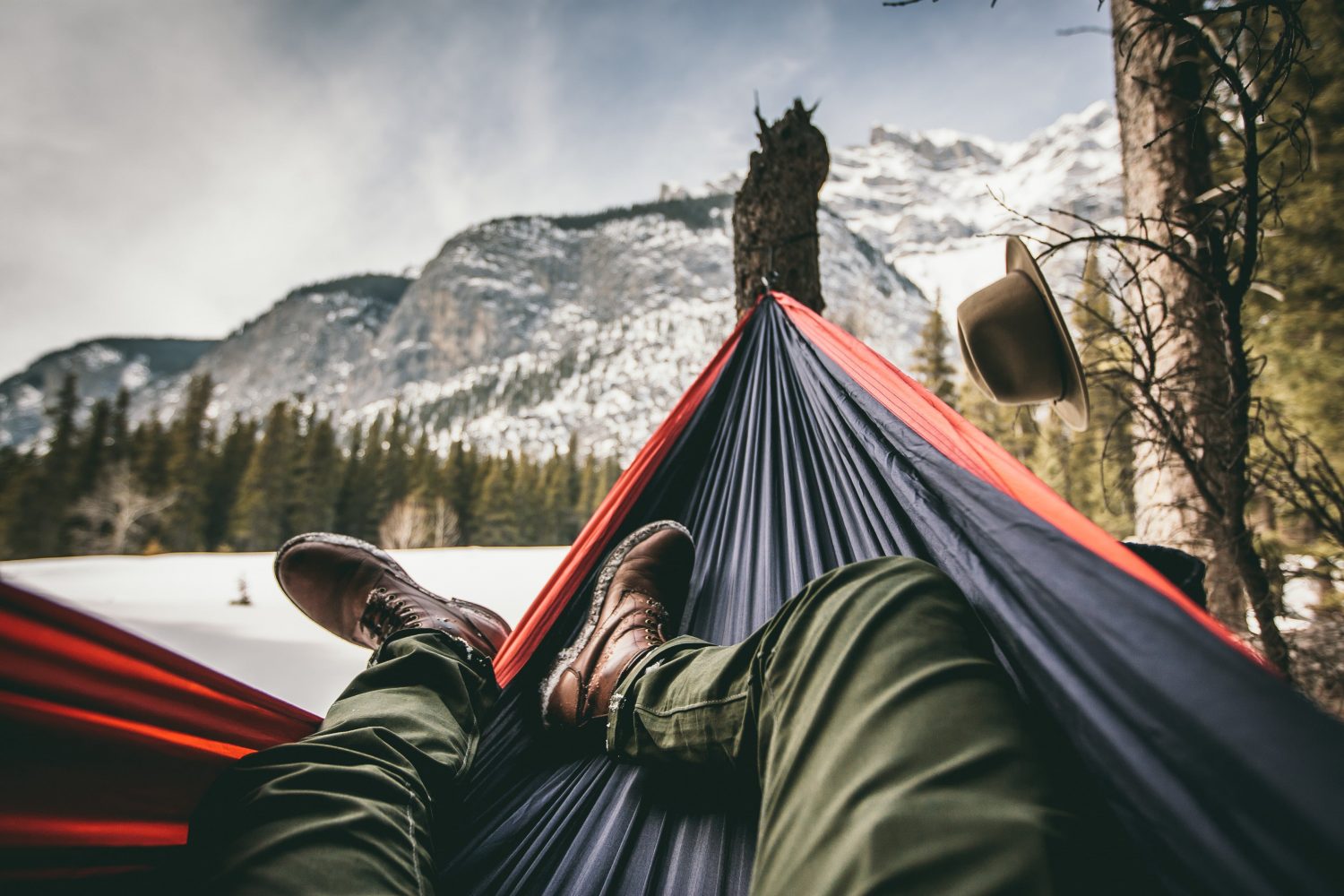 It may seem hammock camping is best reserved for the summertime, the truth is that hammocks are a great 4-season camping sleep system! In the winter you'll just need a little extra equipment.
Tips for Winter Hammock Camping:
Insulation. Cold air will be passing on all sides of you, so it's best to have insulation in your hammock! Underquilts are made specifically for hammocks to lay in the bottom so your body is not in contact with the breathable material. Paired with a sleeping bag or top quilt, you'll stay warm and toasty all night long.
Rain Tarp. A rain tarp will protect you from rain and snow, but it will also keep you shielded from cold winter winds.
For a guide to hammock camping with tips on how to select your hammock, where to hang it and how to use it, click here!
---
Camping in a hammock can totally revolutionize the way you rest out in nature and even how you relax in your own backyard. If you love camping but hate sleeping on the ground, give it a try! You'll be glad you did.