"Take only photos, leave only footprints." 
As outdoor lovers and enthusiasts, it is up to all of us to be mindful and aware of the impacts we have on the natural environment. This applies to backcountry and wilderness areas, as well as local parks and even your own backyard!
Being mindful of our impact on the natural environment and taking steps to lessen that impact are parts of the Leave No Trace principles – and hammock camping is a great way to camp while minimizing your impact! In this article, you'll learn how to further reduce your impact on the environment with 9 Tips to Leave No Trace Hammock Camping.
What is Leave No Trace?
Leave No Trace is a non-profit organization with a set of 7 Principles of Outdoor Ethics set in place to promote conservation in the outdoors.
The Leave No Trace principles have been adapted to many different activities – most notably camping and hiking in wilderness areas.
The purpose of Leave No Trace is to educate people about their recreational impact on nature and wilderness areas so that we can all be more aware of the impact everything we do has – and do our part to minimize those impacts.
These principles apply to outdoor recreation in the backcountry, wilderness areas, local parks and even our own backyards.
7 Principles of Leave No Trace:
Plan Ahead and Prepare
Travel and Camp on Durable Surfaces
Dispose of Waste Properly
Leave What You Find
Minimize Campfire Impacts
Respect Wildlife
Be Considerate of Other Visitors
You can learn more about the Leave No Trace principles and organization at LNT.org.
9 Tips to Leave No Trace Hammock Camping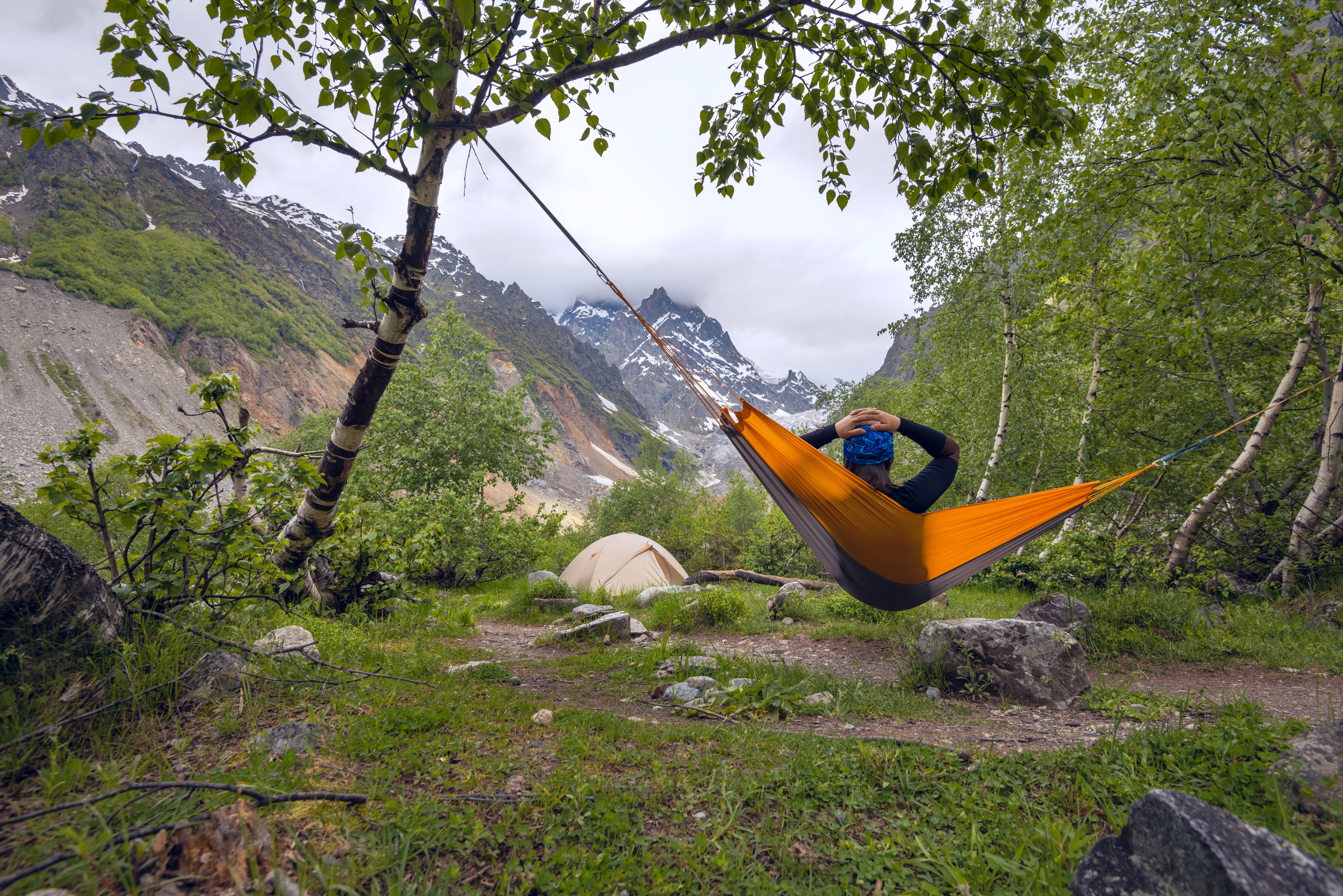 Hammock camping is already an excellent type of camping to lessen your impact on the environment. When sleeping in a hammock, especially for multiple nights in the same place, you aren't damaging vegetation on the ground the same way you would with a tent. There is no ground-leveling or tent staking required.
Hammocks do not alter the natural environment in the same way that tent camping or ground sleeping does, but there are still several ways you can minimize your impact even further while hammock camping.
Keep in mind—hammock campsites should always be found, not made. It is never necessary to clear out vegetation or snap tree branches to create the perfect campsite – this is harmful to the natural environment.
Practice responsible hammock camping and minimize your impacts on the environment by:
Tree Saving Straps. Hang your hammock using straps no smaller than 1" in diameter in order to protect the bark of the tree you are hanging it from. This 1" of strap will be supporting all of your weight – the smaller the strap, the more tension it will place around the trunk of the tree. When bark around a tree is broken or cracked, it causes tree tissue death and it cannot deliver the water and nutrients it needs up the trunk. When hanging your hammock, avoid using things like paracord or other thin rope and opt for thicker webbing or straps to more evenly distribute the load of weight around the tree trunk.
Protect Riparian Areas. Riparian areas are the areas of land between land and water – the shoreline and a little more. Always set up camp at least 200 feet away from a water source like a river, stream or lake to protect this fragile zone. Riparian areas have unique plant habitats and communities and are significant in soil stabilization. Even though you're hanging above the ground, the repeated footsteps of getting into and out of your hammock can damage these fragile areas.
Select Proper Trees. When selecting trees to hang your hammock from, look for the following things:

An alive and sturdy tree
Trunk at least 12 inches in diameter
No "Widow Makers"—look up! Be sure there are no dead or cracked branches that could fall in the wind or a storm.

Protect Vegetation. Like mentioned above—good campsites are found, not made. When you find 2 suitable trees for hanging your hammock, you need to survey the area around them as well. Never clear out brush or vegetation for the purpose of camping—and keep your area small.
Choose an Existing Campsite. Whenever possible, set up camp in an existing campsite. If you are in the backcountry and can recognize where someone has camped before, opt for that spot. If this is not possible, be sure to keep your area as small and minimally impacted as possible.
Minimize Campfire Impacts. Camping just isn't the same without having a campfire – but campfires can be one of the most destructive activities on the natural environment. When fires are permitted, use established fire rings when at all possible. Never create a new one if there is one already used and available. Keep your fires small, and put it out completely before sleeping or leaving the area. Do not bring firewood from home or outside the local area – this is how invasive pests and diseases get spread to wildlife and vegetation.
Always take down your hammock when you're done using it for the day—even if you plan on putting it back up at night. This will prevent injuries to other people and wildlife.
Check local regulations and be sure hammock camping is allowed. Many state and local parks do not allow anything be hung from trees—be sure it's allowed before you do it!
Leave Only Footprints. Always leave an area better than you found it when at all possible. When it's time to pack up and leave, survey the area for anything you may have left behind. This includes food scraps – literally anything that wasn't there when you got there. Pick up any trash (whether it's from you or not) and ensure that you're leaving only footprints!
Benefits of Hammock Camping
There are so many benefits to hammock camping—one of the coolest is that it is already a minimally impactful camping shelter just how it is! Hammock camping is fun, cool, comfortable AND environmentally responsible. Some benefits of hammock camping are:
Comfort! No more hard ground, uncomfortable sleeping pads and aching joints in the morning. Hammock camping is super comfy—you'll get a great nights sleep hanging in the trees.
Versatility – hammocks are incredibly versatile. As long as there are suitable trees, you can set up camp!
Portability: Camping hammocks and their straps stuff into sacks that typically weigh less than 2 pounds and are no bigger than a rolled up pair of large wool socks. They are the ultimate lightweight and portable camping option for backpackers and overnight campers.
Easy setup. No struggling with poles, straightening a tent or large rain flies!
Hammock Camping Tips
Hammock camping is cool and comfy—but there is a learning curve if you've never done it before. Here are a few quick tips to help you make the most of your hammock camping experience:
Insulate! If it's a little cold out, you can guarantee you'll be cold in your hammock if you don't insulate. Insulate your hammock with an underquilt underneath your hammock on the outside – it's important that it's not between you and the hammock being crushed, because then it won't insulate you properly. You can buy a hammock underquilt or tie a sleeping bag up under you, and cover up with one on top.
Lay Diagonally. To get the most out of your hang and the most comfort in your hammock, lay diagonally. Laying diagonally stretches out the fabric and provides a flatter sleeping surface, which is more comfortable than having your back curved all night.
Find your hanging sweet spot. The comfortability of your hammock has everything to do with how you hang it – too close together and it will be cramped. Too far apart and it will be hard and stiff. A proper hammock hang should be a slight curve—like a slight smile. Practice until you get the *hang* of it!
Hammock Camping Equipment
There are many different types of hammocks you can use for camping – and many that you can't. The best hammock for camping will be made out of a breathable nylon parachute material with strong stitching. Some come with mosquito nets attached, or you can purchase an external mosquito net. You will need straps at least 1″ wide with several different loops for different hanging options. Eno hammocks are an excellent choice for quality, durability and versatility. View our selection of Eno Hammocks and Accessories here. 
---
Want to learn more about getting started with hammock camping? Check out this article: Sleep in the Trees: A Guide to Hammock Camping.