Spring is almost officially here and the weather is already perfect for camping in many areas of the United States! Hammock camping is all the rage right now – and for good reason! Before you hit the trails and the campsites to go hammock camping this year, read this article and be sure you have the essential hammock camping gear so your trip can go off without any unintentional hang-ups (pun intended!).
Hammock
First things first… for hammock camping, you're obviously going to need a hammock. And not just any hammock, but one made specifically for camping! Camping hammocks are typically made from a nylon type parachute material. This material is breathable to prevent moisture pooling and sweat, has a tiny bit of give to it and is super strong.
Camping hammocks are created for repeated use in the outdoors and have been tested for strength and durability. They're also super comfortable, but don't just take my word for it!
There are many different brands and types of camping hammocks.
Some are single-wide and are made with less material so they're smaller (and also weigh less). Double-wide hammocks are wide enough and strength rated for two people – these weigh a tiny bit more, but let's be real here: most people with double-wide hammocks use all that extra space for themselves to stretch out… myself included.
Some camping hammocks have bug repellent fibers interwoven into the nylon material, while some come with a mosquito net permanently attached to the top.
The perfect hammock for you is going to come down to personal preference and it's different for everyone. Check out our hammock selection here. 
Hanging Gear
Depending on what brand or type of hammock you buy, you will need a way to hang it. Some hammocks come with straps, some come with rope, and some you have to purchase all the hanging gear separately.
There are pros and cons to the different types of hanging gear depending on what kind of camper you are.
Straps:
Pro: Straps are more environmentally friendly. The webbing is wide, causing less damage to trees because they distribute weight more evenly

Pro: Straps typically last longer – they're more durable and don't fray due to friction as quickly

Pro: There are many different types and lengths for hanging your hammock between trees at a variety of distances

Con: They're big, even when rolled up and put in their stuff sack.

Con: Along with the space they take up, they weigh more. Size and weight matter when you're backpacking!
Rope:
Pro: Very lightweight and can store down much smaller than straps

Pro: Super versatile – you can cut whatever length of rope you need for your hanging situation, and adjust the knots whenever necessary to have the right amount of tension in your hammock hang

Pro: Rope is pretty cheap and doesn't cost much to replace when damaged or lost. Paracord is a great hammock hanging accessory.

Con: Rope frays easily when it's repeatedly rubbed against the rough bark of a tree. You will be replacing rope more often than straps.

Con: May cause more damage to trees and foliage due to all the hammocks weight being concentrated on a very thin line around the trunk.
Keep Insects Away
There are many different ways to keep bugs off of you while hammock camping. If you're not planning on being in a buggy area, you may choose to skip this part altogether! For those of us who are irresistible to biting insects, here are some options:
A hammock with a built-in bug net – these are handy when it comes to not dealing with extra gear! However, the bug net only covers the top. I have personally been bitten through the bottom of my hammock, but you'll be fine if you have an underquilt or camping pad. The built-in bug net also makes this hammock a little more difficult to set up for a casual hangout in a park or at a festival.

Buy a hammock with an insect shield like this one from Eno. These hammocks are treated with permethrin – a synthetic compound similar to that found in chrysanthemum flowers. Permethrin is not harmful to humans but will kill many insects on contact. https://www.ganderoutdoors.com/eno-doublenest-insect-shield-hammock-khaki%2Fmaroon-219498.html

Treat your gear with permethrin yourself! This is a more cost-effective option and can also be used to treat your hiking shoes and other camping gear. Pick some up here. 
Get a bug net like this one by Eno. Bug nets can be moved out of the way and only used when necessary. Bug nets cover the entire hammock and leave plenty of room to move around. This Guardian Bug Net stuffs into its own sack for convenient transport and is very lightweight! 
Protect Yourself From The Elements
The 4 main elements you want to protect yourself from when hammock camping are: rain, snow, wind, and sun. You can shield yourself from all of these things with a single piece of gear: a rain fly. You can purchase a hammock specific rain fly or just use a regular tarp and some ingenuity – each will achieve the same effect.
Rain Fly: Hammock specific rain flies come in many different shapes and sizes. Rain flies are sold with all the equipment you need to set them up. This usually includes rope for hanging and stakes for securing it into the ground.
Tarp: To use a regular tarp, you will also need rope and stakes. You will use a rope for hanging the tarp above your hammock, and rope on the corners to stake it into the ground. Tarps can be more versatile: you can create a tent-like structure, a lean-to or a simple wind block.
Stay Warm In Cold Weather
Cold weather camping in a hammock: definitely recommended! There are various pieces of equipment you can bring along on a cold weather camping trip to beat the freeze.
Underquilt

Sleeping Pad and Sleeping Bag

Wind block/rain fly

Dressing in layers
There are many different ways and combinations of gear to keep you protected from cold wind and winter weather when hammock camping. To learn more, check out this article for Winter Hammock Camping Gear and Tips. 
Keep Your Gear Dry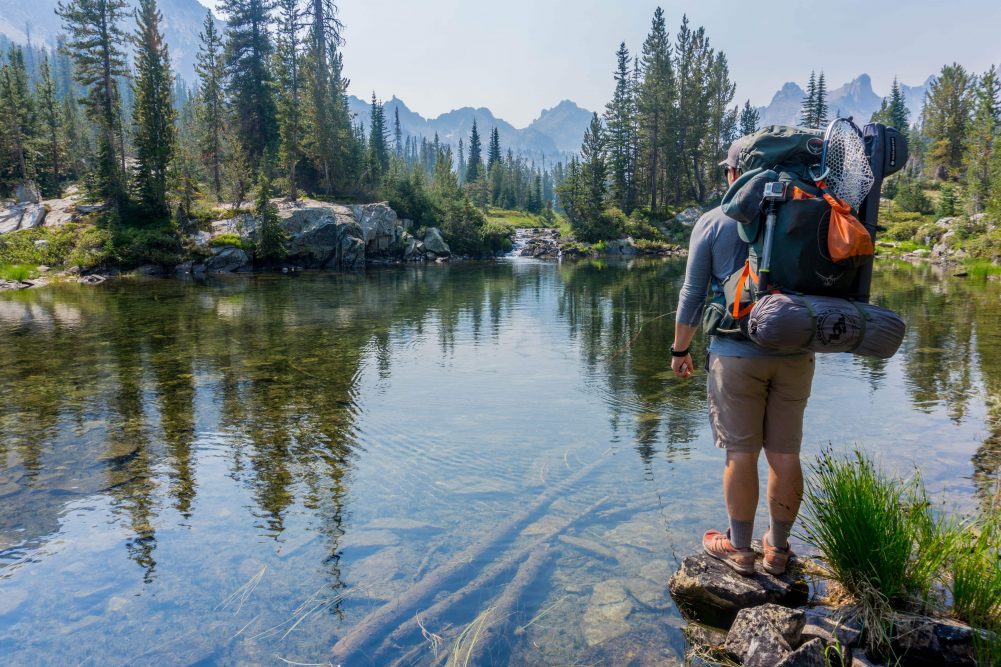 Unlike tent camping, when you're hammock camping, you don't have a place to store your gear like clothes, bags, shoes, etc. You could always keep that gear in your car, but sometimes the best campsites require a lengthy hike in.
Keep your clothes and other gear dry with a dry bag. A dry bag is a good idea whether you're expecting precipitation or not – morning dew can really soak things through. 
The most important things to keep in mind when preparing for your hammock camping trip are: hanging gear, insect repellent, protecting yourself from the elements, staying warm and keeping your stuff dry. As long as you have these essentials covered, you'll be a hammock camping pro in no time. For beginner hammock camping tricks and safety tips, check out this Guide to Hammock Camping.